We start by talking with clients, clarifying their aims and goals.
Then we proceed to create something that the world has never seen.

Whether your experience is in developing new systems or maintaining older ones.
To those who have experience in researching, specification review, trial production, or those who want to challenge.
With technical proficiency backed by theoretical fundamentals, and a commitment to work-life balance,
won't you join us in making the future a little better?

Research, development and technical consulting for new client products.
The president of Igel, Mr. Hayama, while doing graduate studies at the University of Tsukuba provided technical support for several computer manufacturers. Since then, we have amassed valuable experience, solving high-level problems with Linux, such as: "Supporting for international standardization for three major mobile carriers in Japan"  "Launching of Linux solutions for semiconductor manufacturers",
and "joint development of IPv6 protocol stacks with electronics manufacturers".
We continue to work with these customers to this day, striving to help develop business strategy and cutting-edge technical solutions to improve the daily lives of all of society.

Technical strength backed by theory. Creativity and ability to follow through, honed through project experience. For the 17 years since our founding, we've been a leader in supporting the leading edge of manufacturing due to our solid technical capabilities backed by theoretical concepts. Just as the fundamental theory used for constructing a building is structural mechanics, the foundation that supports pioneering development is computer science.
Based on a backbone of academic rigour, we have leveraged the experience gained over many projects to be able to continually exceed even the most challenging demands of our customers.

Solving problems in collaboration with leading manufacturers, both locally and abroad.
As an example, together with NTT laboratories, we are working on the development of technology that allows for realizing the same functionality as expensive dedicated network equipment with off-the-shelf hardware and Linux software components.
Furthermore, by conducting research on a mechanism that dynamically increases or decreases the processing capacity with virtualization technology, we aim to increase the efficiency of the network through on demand resource scaling.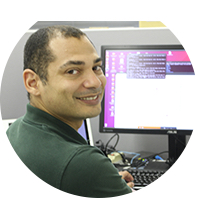 Damian Hobson-Garcia
Age:39  
6th year at the company
Supporting development of Automotive Grade Linux (AGL) on an ARM platform, includingacceleration of multimedia services and graphics.
When this project is realized, it will lead to the development of new markets, as well as improvement of functionality and convenience for In-Vehicle-Infotainment systems throughout the world.
We are working in cooperation with engineers from leading manufacturers from all parts of the globe to develop this system.
In another project, we are working on custom acceleration of the Qt application framework on a client platform. In my work as a team leader,
I am responsible for the management of the entire project, which is both challenging and rewarding.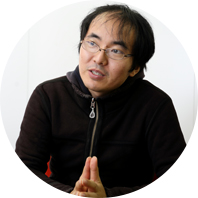 Hideki Eiraku
Age:32
7th year at the company
When I was enrolled as a researcher at graduate school, I was involved in developing the core functionality of the in the virtual machine monitor BitVisor, which is currently used in our company's products.
"VThrii System Tweaks" solved the problem of managing about 1,300 terminals in the Information Infrastructure Center of the University of Tokyo in 2014.
Furthermore, in 2016, "VThrii Seamless Provisioning" was adopted, which allows the user to choose to boot either MAC OS or Windows environment at high-speed without the need to preinstall the OS on each system.
Further improvements are currently under development. that I am happy that I am able to continues to participate in Bitvisor development.

Even when deadlines approaching the office is usually empty by 8pm.
We work decisively for a fixed time period. We avoid useless meetings, and work with focus and precision. We negotiate our schedules with clients in advance to avoid sudden demands of "by the end of today".
We think that it is important to have realistic expectations of what can and cannot be done, and managers do not plan schedules that explicitly require overtime work.Once the stated tasks are completed, we all return home to maintain a good work-life balance.
Won't you join us in making Japan, and the whole world a little brighter through technology?

To those who worry that that their technical knowledge might be a little lacking.
We welcome those with a "can do" attitude who want to rise to the challenge. You may have more to offer than you realize. We provide an environment to foster growth and help you realize your potential, so if you are interested, please apply without hesitation.

Job title
Software development engineer
Job Description
Design and development on pioneering R&D software projects, project management, etc.
Applicants

Technical college diploma / Bachelor Degree
C / C ++, Linux Development Experience
Individuals with an interest in technology

Location
Musashino-shi
Working hour

discretionary work system 7.5h / day
Standard working hours 10: 00 ~ 18: 30
* Average overtime hours of the month 20 to 30 hours
Even before deadlines, most people will not be in the office at 8pm

Salary
Annual salary from 3 million yen to 12 million yen
* Renewal at the end of every term
* Based on consideration of experience and ability, preferential treatment according to our regulations
Benefits
Bonuses once a year / End-of-year bonus according to contribution
Annual salary increase
Full payment of transportation expenses
Company health insurance .  Internal and external training (English/Japanese conversation etc (company paid))
◆ Housing support
・Supplement half the rent / upper limit 40,000 yen
・Security deposit key money / within limits
・Commuting area of ​​about 30 minutes (approximate)
Holidays · Vacation
Weekends (Saturday, Sunday) &  Holidays
Summer / 5 days
New Year's Holiday / 5 days
Paid vacation / 10 days in the first year
Congratulations and condolences leave
Annual holidays 122 days